As you've probably heard us shouting from the rooftops, Book Dash believes "every child should own a hundred books by the age of five". It's a grand vision that we'll reach through collaboration and systemic change in how we make and distribute books to young children. We're grateful to you for the role you've played in helping us get there.
By the end of February, we will have succeeded in getting 3 million copies of Book Dash books to more than 170+ partner organisations who use them to support their literacy programmes in the ECD and healthcare sectors. Importantly, they give these books to children and families to own to enhance the home literacy environment and give families access to the storybooks necessary for improved family literacy practices. This "3 million milestone" comes shortly after we celebrated our first million books to children, in December 2020. We're proud to be scaling wider and forming new key partnerships to support that growth.
In addition to the distribution of physical books that we manage, there are 100+ local and global Book Dash content partners re-using and re-sharing our books with children, practitioners and caregivers. They use them in their curriculums, translate them into local languages and distribute them in print and digital formats. Enabled by the Creative Commons licence and the quality of our books, the reach of the books is exponential.
The contribution to literacy of this South African-born publishing innovation is staggering. In the next two months, we have some incredible opportunities to show what we do with the world:
We've been selected as a finalist in the CSI Legacy Awards
Book Dash's work was selected as a finalist in the category for "Best Rising NGO" in the CSI Legacy Awards, hosted by CSR News. The winner will be announced on 2 March in Pretoria. Book Dash's creativity, bold vision and growth in reach was noted in the shortlisting process. Our newest Board members, Jabulile Nosi (FNB) and Boitumelo Khunou (ClassAct) will represent Book Dash at the event, and if you'll be there please go say hello to them! Tickets are available here if you're interested in attending the awards ceremony.
2. We've been invited by the 2023 Bologna Children's Book Fair to show off our world-first publishing model
Did you know that all Book Dash books are created by volunteer creative professionals and in just 12-hours? This is the magic that is Book Dash and is the founding innovation that allows us to donate beautiful, relevant books in abundance to children to own.
On the 6th and 7th March, we'll be showing this unique approach to the world at the 60th edition of the Bologna Children's Book Fair in Italy. Two teams of African writers, illustrators and designers will work to create brand new picturebooks at the world's pre-eminent children's book fair. We're planning to leave them in awe!
We also have a spot on the official programme to share the books with the audience and discuss the unique creative process. Julia will also appear on the panel discussion of the Global Network for Early Year's Bookgifting; she's a member of the Working Group.
3. We're presenting at the World Literacy Summit in April and we're shortlisted for a World Literacy Award

Book Dash's model for creating high-quality, relevant children's books very quickly and cost-effectively is a world first and has implications for the global literacy sector, but that's not where our contribution ends. All the books made by our creative superheroes are licensed under a Creative Commons licence and they're used by over 100 organisations worldwide to support literacy development and increase impact. This is what we'll be sharing with the delegates at the 2023 World Literacy Summit in Oxford. Not only that, but we've also heard that Book Dash has been shortlisted for the award for Contribution to Literacy by an Organisation
Of course, while we're busy telling the world about what we do, we'll also continue to onboard new partners, and get beautiful, relevant books to children and families to own.
Work with us! Buy and/or donate to support Book Dash's work
If your organisation could use books to bolster your work, we're currently having a sale of our books (information and order form here).
If you or your organisation would like to support Book Dash's ongoing work and increasing impact through funds or a strategic partnership, you can let us know by writing to team@bookdash.org to kickstart the conversation, or simply donating here. We're fully registered, S18a-compliant and a Level 1 B-BBEEE organisation. Any financial contributions are greatly appreciated and directly enable us to get more children owning books.
Join us at the Open Publishing Fest on 11 November from 11:00 – 12:00 (South African time) for a session where three partner organisations will tell the story of how Book Dash's open license and open approach helps them do their work.
It's a truly global discussion, with participants from India, Papua New Guinea and Lebanon.
If you missed it, you can watch a recording of the event below
In proud partnership with the Open Publishing Fest. More details and view all the events at www.openpublishingfest.org or follow #openpublishingfest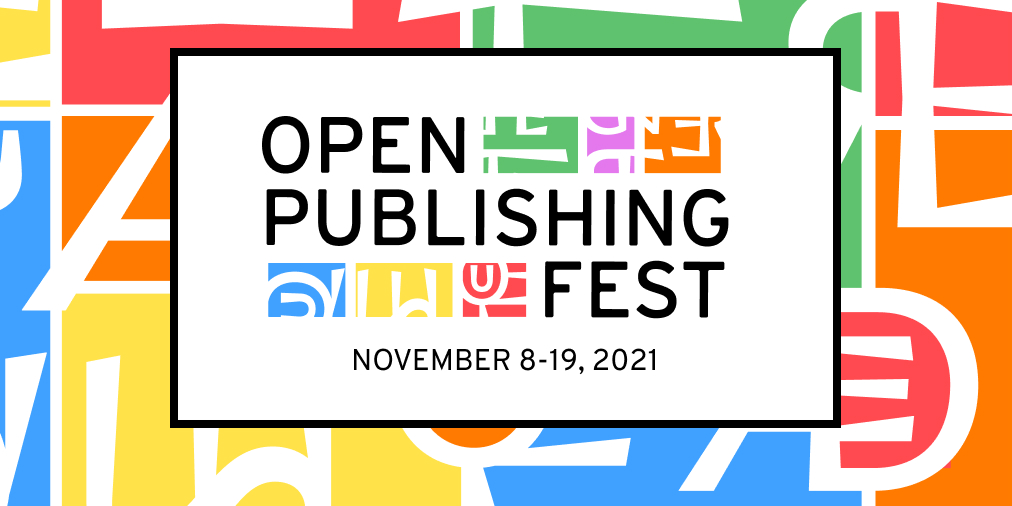 Book Dash was thrilled to be featured as Beautiful News' story for International Literacy Day in September. Watch the video below, or read the story here: www.beautifulnews.com/how-12-hour-book-writing-marathons-are-combating-illiteracy-south-africa
Early access to books in the home, and owning one's own books, is a bridge to literacy, curiosity and empathy.
At Book Dash, our vision is for every child to own one hundred books by the age of five. Watch the 1 minute video to find out why, and how we're making it happen, and then visit bookdash.org to get involved in the movement.
Jump into Mogau's Kingdom and meet colourful characters from an array Book Dash's free online library of African storybooks, brought to life to go on an adventure with you!
Mogau's Kingdom is a free edutainment game available in all 11 official South African languages. The app will help your child fall in love with reading, and then give them access to a library of over 160 free African picturebooks that will support children to build confidence and reading skills even before school.
Books are more than words and pictures on paper; they are a representation of different worlds. Mogau's Kingdom shares this amazing, adventurous, imaginative world with children, to get them excited about the world of Book Dash's free books.
This interactive, edutainment game was created at Hack Ur Culture, by a team of volunteers who are passionate about increasing access to South Africa's rich culture. Production from Kobold Kove in partnership with Book Dash, Credipple, the Goethe-Institut and SADiLaR.
For updates on the app, sign up here for notifications: https://mailchi.mp/52a707cee8fb/jump-in
Book Dash is a publisher with social impact at our heart. We use an innovative volunteer-driven and fast-paced model for creating affordable new African storybooks. We publish and share these books freely with the world at bookdash.org.
Book Dash exists because there is a huge inequality in
access to books for young children,
whose stories are featured in those books
and, crucially for literacy development, in which languages those books are available.
Despite research showing the importance of children growing up in a print-rich, mothertongue environment, there is a huge lack of beautiful, appropriate and high-quality books in indigenous languages. This is especially true for minority languages with fewer numbers of native speakers, such as TshiVenda in South Africa with 1.3 million native speakers out of the then-52 million inhabitants (2011 census statistics).
This lack of reading materials is further compacted because the written orthography of TshiVenda has five diacritics or "glyphs" that are unique to the TshiVenda alphabet (these are markings like an accent on a letter that indicate a difference in pronunciation from the same letter when unmarked). As a result, these unique glyphs are not commonly catered for when font designers create new fonts. Until now, very few fonts had glyph sets that included all the characters that TshiVenda needs.
Quicksand (fonts.google.com/specimen/Quicksand) is a favourite font at Book Dash. Its open-licensed under the SIL Open Font License (OFL) which means anyone can use it freely (with credit). Its sans serif, geometric-shaped characters with expanded character spacing are perfect for early exposure to written language, for children as well as caregivers who may have varying levels of reading confidence. The rounded edges make it extra-friendly for young children, and the scalability means it looks crisp at all sizes.
However, Quicksand was one of those fonts that didn't include the five unique TshiVenda glyphs. Practically, this meant that every time a Book Dash book was set in Quicksand, the TshiVenda translation had to be typeset in a different font. On our website, too, we use Quicksand and the TshiVenda titles rendered incorrectly.
Book Dash was determined to change this: Through the magic of the internet, we got in touch with one of the designers of Quicksand, Thomas Jockin (passionate type designer and founder of TypeThursday). We explained our vision, detailed the specific need and, as a type designer passionate about inclusion and equal access we found an ally.
Today, we're absolutely thrilled to share that the official Quicksand font now includes the following glyphs unique to the TshiVenda alphabet: Ḓ Ḽ Ṋ Ṅ Ṱ ḓ ḽ ṋ ṅ ṱ .
This means that Quicksand is now more accessible for all! Anyone who creates or sets books in TshiVenda can now use these new glyphs. They're fully integrated on the Google Fonts page for Quicksand, where you can download the beautiful font for free: fonts.google.com/specimen/Quicksand
Below, see examples of the new Quicksand glyphs used in existing Book Dash books in TshiVenda. We'll now start the process of setting our existing TshiVenda versions in Quicksand, and we'll be able to use it for all TshiVenda books going forward, too.
Click here to read all the TshiVenda language Book Dash books for free.
EARLY-YEARS LITERACY INTERVENTION SET TO SUPPORT CHILDREN IN RURAL EASTERN CAPE
The foundations of language are laid and set before children reach Grade R, when, based on this, researchers can predict children's future educational attainment. However, with attendance at early childhood development centres lower than it has been in the past 18 years, many young South African children are facing a gloomy future. Three literacy NGOs, supported by Liberty Community Trust, have teamed up to intervene.
The first five years of life are the most significant for brain development. This is the time when the foundations for language and life are laid down and when for children to thrive later in school and in life, they need to be surrounded by caring adults who create safe and stimulating environments for them, that are filled with plenty of opportunities to play and imagine and to listen to, think and talk about stories.
Each one of us is a storyteller in some form, or another and stories could well turn out to be South Africa's secret weapon. Great and well-told stories motivate children to learn to read and write for themselves and are what set the vital foundation of literacy learning as well as cognitive and emotional development. Research shows us that we cannot wait for children to learn the mechanics of reading at schools. For the effects of a literacy intervention to be meaningful and lasting – so that the results are felt well into the school years and adulthood – it needs to take place in the early years.
Yes, this includes increasing the availability of good quality books and stories in children's home languages for parents and community members to share with their children, but it also means ensuring that the adults who surround these children understand why, or at least accept, that telling and reading stories with children is extremely valuable – and essential – for their future educational success and for the success of the community.
With most learners leaving the school system without the basic skills they need to succeed in school and in life – remember: 78% of Grade 4 children cannot read for meaning and close to one-third of children are functionally illiterate and live in rural areas – these communities remain trapped in a cycle of poverty.
Yizani Sifunde (isiXhosa for 'Come, let's read) – a newly launched literacy project from partners Nal'ibali, Book Dash and Wordworks (and funded by Community Liberty Trust), understands this.
The initiative will be injecting 100 000 brand-new locally-contextualised story books in children's home languages into communities in Queenstown, East London and Tsholomqa in 2021 with the majority of these being for children to take home. It will also be supporting practitioners at 40 ECD centres to make use of a literacy-themed learning programme and providing practical training and materials to caregivers and interested members of the community on how to run extra mural reading clubs.
Ultimately, Yizani Sifunde aims to significantly change the life trajectory of young children by helping parents and community members value their authentic teaching roles and reawakening a love of stories.
Regular reading and story sharing in home and community settings (together with programmatic support as well as a vibrant media campaign) will influence children's oral and written language development as well as the confidence, understanding and practices of all those who are involved so they are better placed to spark their children's potential long before they start school – whether, COVID allowing, these institutions are open or not.
Book Dash is thrilled to have been announced as the winner of the 2021 Nedbank Private Wealth Innovation Awards!
Book Dash was selected from among 150 organisations that applied, many of whom do really important work in the field, so we are humbled and grateful to be the winners.
Here's what Nedbank had to say:
"Book Dash believes that every child should own 100 books by the age of five, and that this will uplift these children and eventually our society as a whole. Its innovative publishing model reduces the costs of publishing by approximately 80%, which means that it can offer books to donors and partners at R10 a copy. Book Dash was not deterred by the challenges posed by the Covid-19 pandemic – in fact, 2020 marked the distribution of their one millionth book.

Book Dash has meticulously recorded its innovative model for book publishing from the onset so that other organisations can publish their books in the same way. Under the strict lockdown conditions, Book Dash decided to move its book-publishing model online, adapting to a virtual environment that allows volunteers from all over the country and the world to participate. They added this new model to their Manual so that others could iterate on this approach. There have been at least 10 instances of organisations using the Book Dash model to publish new books.

In addition to continuing with its innovative content creation methods, Book Dash collaborated with its distribution partners to donate books to families that were receiving food parcels and learning packs through these partners."
The judges were also particularly impressed with our bold vision, lead by a lean team with low operating overheads and yet significant and sustained growth in impact year on year. They noted that the presence of reserve funds demonstrates efficient financial management and a resilient organisation that is ready to continue making a difference in the future.
The application process for the awards was great, with a well-constructed application form that allowed organisations to unpack the different elements of their work, and demonstrate their innovations and the rationale behind it. The feedback from the judging panel was also insightful and encouraging.
Nedbank's recognition of the work we do at Book Dash, and of course the prize money, is appreciated by the whole organisation – staff, Board members, partners and beneficiaries alike. Their support for civil society organisations is incredibly valuable. With their help, we look forward to flooding the country with beautiful, fun, affordable African children's books.
Read the press release from Nebank for more context and information: https://www.nedbankprivatewealth.co.za/content/private-wealth-sa/south-africa/en/info/innovation-winners-2021.html
#bookdash #everychild100books
"Open source is based on freedom. That freedom includes access to the source code, freedom to collaborate, and ultimately, the freedom to innovate." — https://thenewstack.io/power-community-open-source/
New! Watch our discussion with some of the partners listed below on the 'Power of Open' at the 2020 Open Publishing Fest here: https://www.youtube.com/watch?v=XM5bptZVHbw.

Book Dash is defined by its philosophy of open source: our books are published under an open license (Creative Commons Attribution 4.0), our sources files are open (on the website for anyone to access and use) and our model of content creation is open (the 12-hour Book Dash events have been replicated in Nigeria, Angola, Laos, Cambodia and France). The power of open extends our reach logarithmically: it enables our books to be read by people in places that we would never have reached if we had a more traditional approach to copyright. Anyone can adapt, translate, animate, download, print, distribute and even sell our books, because our license imposes no restrictions. 

In this newsletter we have rounded up a few examples of the interesting, weird and wonderful amplifications, applications and adaptations of the Book Dash books, powered by our open philosophy.
1. Our books are published on 100+ reading platforms and apps
At least 50 free reading platforms regularly publish our stories. They appreciate the quality and the ease of using our books, and their readers love the fact that our books show a diverse society where children can recognise themselves in the pages, and have fun. These websites are truly international; readers from India, South America, the UK, Japan, etc contact us to say that they love reading our books.
To single out a few of the 50+ sites where Book Dash books are regularly featured:
2. Many communities do their own translations of our books
Book Dash publishes versions of our books in South African languages. These versions are often created by Nal'ibali's excellent team of language practitioners. The open license also allows language communities across the globe that love our books to do their own translations, thereby adding to the available reading resources in their language.
Some interesting examples are:
A South African living in Norway was disappointed by the homogeneously white characters she encountered in Norwegian children's books. So she translated and printed some Book Dash books in Norwegian.
The organisation Gahwara translates books into Farsi, Pashto and Uzbek. Some Book Dash books are available in these languages, and are being read and loved by kids in Afghanistan.
A group of language activists in Italy who are rekindling the minority Lombard language has translated some of our books into Lombard.
Sleepy Mr Sloth in English, with its Persian translation
3. Our books are adapted for other media 
These are just a few examples of how the power of open allows our books to travel without boundaries, bringing joy to more and more parents and children all over the world. We give the last word to the Global Book Alliance, (funded by DFID, Norad, World Bank, UNICEF, Australian Aid and others), on Twitter: "Groups like Book Dash are changing the shape of global book markets with open access, high quality books to download print and share"
We sometimes get puzzled looks from people when we share our vision with them: every child should own a hundred books by the age of five. Why so many books? Why must they own them? And why so early? In this newsletter, we share three of the important principles that inform our vision and guide our work, and the research that underpins it.
1. Book ownership
Book Dash works to improve book ownership, and we're often asked whether access to books isn't enough to open up the world to children. While access to books through school and community libraries is very important, research indicates that owning many books can completely alter a child's future prospects, especially children born into contexts of poverty.
M.D.R. Evans is a professor of Sociology at the University of Nevada. Her work is key to our thinking about book ownership. With colleagues from across the world, she conducted a study of 27 countries to explore how a "scholarly culture" and its associated cultural capital is created, as this has been shown to be pivotal to academic success. Here's what they found: "Having many books in the home gives children a measurable advantage at school, equal to 3.2 more years of schooling. Books in the home are the single biggest indicator of academic success, equal to parents' education, and more so than socio-economic status". In a profoundly unequal society like South Africa, this is a game changer.

2. Early intervention
The second body of research has to do with when children should start owning books, and when the adults in their lives should start reading to them. Logically, we should only give children books when they can read, right? Wrong! The earlier we invest in at-risk children, the bigger their chance of success, and the greater the social and economic benefit to society. James Heckman is a Nobel Prize-winning economist at the University of Chicago. His "Heckman Equation" is very simple: The earlier the investment in disadvantaged children, the higher the return to society.
Currently society invests too much money on later development when it is often too late to provide great value. The economic benefits of investing early and building skill upon skill to provide greater success to more children and greater productivity, are clearly demonstrated in his work. Heckman's work is one of the research pillars that informs UNICEF's "Nurturing Care Framework" that promotes physical, emotional, social and cognitive development in very young children as a pathway towards peaceful and sustainable societies, and to eliminate extreme poverty and inequality.
In 2016, Professor Lynne Murray led a team of local and international child development experts in conducting a randomised controlled trial in Khayelitsha, working with mothers and their 14-16 month old infants. Some of the findings were that reading with babies and very young children is of significant benefit to the children's attention span, language development, and social understanding, thereby improving their school-readiness and future chances of academic success… years before they enter formal schooling!
This is why Book Dash believes that each child should own one hundred books by the age of five, and why we've re-imagined the publishing process to make books far more cost-effective to produce, print and give away.

3. Book Gifting
We know that 58% of all households in South Africa do not own a single leisure book, and while the reasons for this may be complex, the cost of books is a key reason that books remain an unattainable luxury for many families. In addition, the pivotal role of books and reading in early stimulation and flourishing children is not universally understood.
This is true not only for South Africa, but throughout the world. From this reality a worldwide network of book gifting organisations was born, like the UK Book Trust, Boekstart in the Netherlands, and similar organisations in the USA, Australia, Japan, Finland, etc. All these organisations acknowledge the importance of giving books to families who cannot afford to buy them, and promoting positive messages around reading with children from early on. Most of these organisations are wholly or partially subsidised by their governments. In South Africa this is not the case, and that's where Book Dash comes in.
Through innovative partnerships, we donate our books to children across the country to own. For example, in 2019, MySchool partnered with us to sponsor 50,000 books to be added to Santa Shoeboxes that are distributed to disadvantaged children. The wonderful Santa Shoeboxes go directly into the homes of these children, and by adding books to the box full of gifts, we are not only adding to the children's delight, we are also providing the seed of a home library of books.

Join the movement
We are acutely aware that there are millions of children who are not yet reached by what we do, and that the need is big. This inspires us to do more, and we invite you to join the movement to put 100 books in every child's home. Visit us at bookdash.org to find out how you can help.
A recent collaboration with the DG Murray Trust and a team of CodeSpace Academy graduates means that all 500 Book Dash children's books, in a variety of South Africa's languages, are now available data-free right here on the Book Dash website.
Book Dash want to increase ownership and access to high-quality, home-language children's books for all, knowing the positive effect this has on literacy development and lifelong prospering. We create new African children's books by working with creative volunteers at Book Dash events, to quickly produce and publish beautiful, open-licensed picturebooks. These are printed and distributed to children around the country to own, and all versions are also now available digitally on the website to read, download or adapt.
Recently, Book Dash's site has been made data-free on a variety of networks thanks to the work from the DG Murray Trust to encourage Internet Service Providers to zero-rate educational, public beneficiary websites. The books are also freely accessible through Moya Messenger, South Africa's data-free messenger app.
The project worked to make an additional 350 language-versions of Book Dash books available directly on the Book Dash WordPress site. This means that now the books can be read data-free for South African users on the associated ISPs. This unlocks access to valuable reading material for all from behind the data-barrier, and the user-experience of the Book Dash site is greatly enhanced for all readers. There are also tips for reading with young children available in 11 languages, too.
The Creative Commons open-license means that all the Book Dash books can be viewed, read and downloaded by anyone. The books can also be re-shared on other digital reading platforms, and reach readers all over the world in this way. Over a hundred platforms globally already re-use, re-share and re-mix the Book Dash books to reach more children and make a positive change to the global literacy crisis.
There are 500 books available in total on the Book Dash website, spread across 11 of South Africa's languages. Reducing barriers to accessing high-quality, appropriate content is key to addressing illiteracy worldwide. Improving access to books from early ages gives a child a measurable advantage before, during and after formal schooling.
Read the books today, go to bookdash.org/books!
"Groups like Book Dash are changing the shape of global book markets with open access, high quality books to download, print and share #CloseTheBookGap" — Global Book Alliance.
#bookdash #everychild100books
A few key players at Book Dash reflect on what they've learnt over the last 12 months of the coronavirus pandemic and the impact in the worlds of publishing, representation and social impact.
The significance of diversity and representation in what we read
2020 has taught me that in the midst of so much chaos, confusion and hurt in the world, it is important more than ever to instil love and inspire acceptance into the hearts of everyone we can. A perfect place to start is with our children.
As a child growing up in South Africa, very little if at all, that I read and saw in the media represented my reality. There was no white Christmas nor was there a subway like the one in Manhattan or yellow cabs to get me from point A to point B.
What became clear though as I grew older, was that the media I consumed used examples drawn from totally different set of life experiences. No one "out there" looked or sounded anything like me. The subtle message I received was that my own life experiences didn't matter.
Today as a parent and writer, I have a responsibility to children to make sure that no other child feels like they do not belong or matter. Thanks to Book Dash that we can strive to create a world in which all children can see themselves represented in the pages of a book while also making these books accessible to them in their home languages.
Mathapelo Mabaso is a brand strategist and volunteer writer for Book Dash
The necessity of physical reading material in the home
There is consensus that in 2020, most children worldwide spent too much time in front of screens as families under lockdown tried to keep children occupied and stimulated, while parents worked from home. Although online resources were a godsend, the pandemic also highlighted the importance of having printed books in the home.
Firstly, there is the scientific argument: the research is clear on the advantage of printed books over screen time for preschool children. A child's brain develops the most rapidly in the first 5 years of their life, and reading printed books helps to increase and organise the brain's white matter, setting the brain up for optimal learning going forward. "When it came to screen time, kids who used screens more than one hour a day had poorer emerging literacy skills, less ability to use expressive language, and tested lower on the ability to rapidly name objects. In contrast, children who frequently read books with their caregiver scored higher on cognitive tests." This is the conclusion of clinicians at the Cincinnati Children's Reading and Literacy Discovery Center.
Secondly, there is the reality of many South African that are excluded from using online resources because of issues around digital access, the high cost of data and the low penetration of smart devices. Printed books play a crucial role in supporting preschool children's development and preparing them for school, and never more so than during lockdown when many of Book Dash's ECD distribution partners managed to keep sending our books home to the children in their care. The consistent feedback from families is that these books have been a refuge for children and adults alike, creating a spark for a shared, fun activity that strengthens emotional bonds and increases feelings of security.
Dorette Louw is a Director at Book Dash
The poignancy of generosity and an "open" approach to resources
If there were ever a time to consider generosity as a doctrine, it was 2020. As Arundhati Roy said in an interview in April, "This virus has worked like an MRI or like an X-Ray on societies & countries and exposed their barebones … amplifying all the weaknesses, all the injustices…" Individuals, organisations and countries were forced to recognise rampant inequality and make a choice: Some doubled-down and stockpiled resources for themselves, while many chose to share what they had in the hopes of creating a more equal experience for all, enacting the adage "When you have more than you need, build a longer table, not a higher fence."
A large number of institutions, especially those in education chose to reduce barriers to their content this year — embracing a spirit of sharing that for-profit businesses don't often consider in their models. Snapplify opened their library of local educational materials for free access and Tanzanian-based children's edutainment powerhouse Ubongo chose to reclassify all their content from copyright-protected to Creative Commons licensing. They joined a league of organisations worldwide who create and share and advocate for high quality "open educational resources" (OER).
At Book Dash, this doctrine of "open" has defined our approach from the start: We always knew that an open license would enable exponential impact for our beautiful African picturebooks to travel unbounded, even when we can't. This means the books are free to read, download, adapt and print. We were inspired early on by organisations leading the way and we were lucky enough to present alongside some at celebrations of "open" like the Open Publishing Fest, hosted by leaders in the industry at the Coko Foundation. I'd love to see this spirit of generosity continue past the current time of the pandemic-induced crisis, truly believing we're all richer when resources are shared.
Julia Norrish is the Executive Director at Book Dash
Online reading practices and the importance of digital accessibility
At the beginning of what promises to be another challenging year, what is clearer now than ever before is the importance that agility, grit, and a collective response plays in overcoming the new and existing challenges faced in learning and literacy, globally. 
Accessibility to digital tools and content was imperative to continued learning this year, and it's encouraging to see how these have been embraced. Book Dash's website visits alone increased by 500% compared to 2019.  Hundreds of thousands of young readers are now interacting with digital reading and learning tools, daily. Many of them are using these tools for the first time, and in situations where they have far less support than they would have had ordinarily. Through this, we've learned that access to digital content and tools is not enough. We've also seen how important engaged and empowered teachers, parents and other care-givers are to building reading communities – whether these are facilitated with hardcopy or digital books. 
Coming together, listening to each other, and adapting to change quickly and effectively is crucial to establishing successful online reading practices, regardless of whether you are building the tools, implementing them, or using them day-to-day.
Tarryn-Anne Anderson is a founding member of Book Dash and the Growth Director at Snapplify.
The importance of agility and adaptability in social impact businesses
While the social sector is accustomed to, even built for, turbulence, 2020 was a shock. Funding streams that seemed secure were suddenly diverted – rightly so – to COVID19 relief efforts and usual channels to communities were severely disrupted. 
Social enterprises were met with mixed messages – some funders wanted an immediate pivot to dealing with COVID issues, while others praised organisations that promised to stay true to mission while drastically cutting back on staff and projects. It was a difficult environment in which to keep your head, as the obvious and drastic needs of communities, the frantic reprioritisation by funders, the restrictions on movement and commerce, and the general psychological stress merged in a pressure cooker.
Despite this, many organisations managed to react with grace, courage and imagination. They made tough decisions, drew on reserves (financial and emotional), initiated collaborative conversations with funders, sought out new partners, redesigned programme delivery, and reimagined the value they could bring to the people they serve.
Many organisations – early childhood development centres are an example – simply couldn't respond in this way. And movements have built up around them to try to claw back what has been lost this year. If there is any silver lining, it's the widespread realisation that services like these and the impact they have on children's lives cannot be underestimated.
Social impact businesses have learned valuable lessons this year: that agility and adaptability are necessities, that resilience and mutual support are critical, and that they are stronger and more essential than they ever knew.
Michelle Matthews is a founding member of Book Dash and Director of Product at Viridian
A virtual party
On December 3rd, the Book Dash community celebrated a momentous milestone for our organisation: on 20 November the 1 millionth copy of a Book Dash book was given to a child, and we threw a virtual party to mark it.
More than 100 guests from all over the world joined the event, which was live-streamed from the Book Dash offices in Cape Town. The team had asked some supporters like donors, creatives, partners and superfans to send in video messages before the event, and it was lovely to watch those together.
The Founders of Book Dash, streaming in live from their homes, told the story of the conception, birth and growth of Book Dash, and we watched a video condensing our 6-year journey into a 5-minute good-news story. You can watch the video here.
Looking back
The first book ever published by Book Dash in 2014 is a funny story called Sleepy Mr Sloth. Our Book Dash book-creation events always end with storytime, where teams share the new books they created. Last night we kept the tradition alive, and ended our celebration with Aidan, the 8-year old son of Arthur and Michelle (two of the Book Dash founders) reading Sleepy Mr Sloth.
The 1 millionth Book Dash book
Staying with 8-year old boys: another 8-year old boy was the recipient of the 1 millionth Book Dash book. Iyanda lives in KZN, and he received two Book Dash books in his Santa Shoebox, one with a sparkly golden sticker on it! This year, MySchoolMyVillageMyPlanet funded the printing of 100,000 Book Dash books to be included in 2020's Santa Shoeboxes.
This is a picture of Iyanda, with the 1 millionth book – which happened to be packed in the 1 millionth Santa Shoebox given to children. What are the chances of two partner organisations (Book Dash and Santa Shoebox) both reaching their 1 million milestones at the same time?
Looking forward
Our vision is for each child to own one hundred books by the age of five. There are about 6 million children aged 5 and under in South Africa, which means that for us to achieve our vision, we have to distribute many more millions of books, and keep on doing this forever and ever.
We are up for the challenge, especially with supporters like you. But last night we paused to raise a glass to everyone who helped us achieve the first one million books. Thank you for all your support, and please do stick around for all the new chapters in our story.
Book Dash is honoured to announce that our website and catalogue of books has been vetted as one of the inaugural Digital Public Goods in the Foundational Literacy and Early Grade Reading category.

A Digital Public Good is an openly-licensed technology, data model, or content that is of high relevance for attainment of the Sustainable Development Goals (SDGs). The Digital Public Good Alliance, that was set up to identify such open digital goods in line with a recommendation from the UN Secretary General's Roadmap for Digital Cooperation.

We're glad that this recognition will allow more people to know about, access and enjoy our collection of 140+ beautiful, African stories that are free for all.
For more information about this recognition, read the Medium article announcement from the Digital Public Goods Alliance: https://medium.com/digital-public-goods/announcing-the-first-vetted-digital-public-goods-for-foundational-literacy-and-early-grade-reading-1f5c371a50d3
Since our inception in 2014, Book Dash has published 140 original African storybooks for children, and translated them into a library of close to 500 titles. How much did we pay over the years in writer's fees, illustration fees, design fees and editing fees? Nothing. Nada. Zilch. This astonishing fact is due to the generosity of the creative volunteers whose passion and skills are the powerful force that enables Book Dash to publish free books, and in doing so break down the barriers to literacy.
Our vision is that every child should own a hundred books by the age of five, so in addition to making the books freely available online, the printing and distribution of physical copies is crucial to our work. Because we don't have to pay the creative volunteers for their work, we are able to publish our books at roughly 20% of traditional publishing costs. These savings mean that we can print and distribute an abundance of books, so that all children, regardless of their socio-economic position, can benefit from owning books. This year alone, we've been able to distribute 340,000 books to children, despite restrictions due to COVID-19.
So what motivates our superstar volunteers to give up 12 hours on a Saturday (some repeat offenders have given up three, four… six Saturdays over the years) to work very hard and make a free book in a team with other creatives? This is what a few of them have to say:
Ndumiso Nyoni (illustrator, three Book Dash events)
"I volunteer for Book Dash because I grew up on books, comics and cartoons but could never fully connect with the characters I loved, because they didn't look or sound like me… Not only does Book Dash give me the opportunity to create books that will resonate with young African children, they also create and distribute the books for free to help improve child literacy throughout our continent. Knowing that there is an African child out there who is both learning to read and appreciate themselves for who they are, is the biggest achievement of my career and I am humbled and honoured to be a part of it."
Sam Wilson (writer, seven Book Dash events)
"Literacy is a huge issue in South Africa. Book Dash creates books that are free online, and can be printed and sold by anyone. It's an amazing way to give every child in South Africa their own books. And I get to do something I love for a great cause." 
Have a look at this short video to hear what motivates two Book Dash writers, Mathapelo Mabaso (two Book Dash events) and Sindiwe Magona (two Book Dash events), to get involved.
So, salute our creative volunteers for their generosity by reading their Book Dash books with the children in your life (free on our website), and tell others about the books too. You can also follow your favourite Book Dash volunteers on their social media pages to see more of the amazing creative work that they do in their day jobs.
To get notified of when the next Book Dash event and call for applications is, join our mailing list here:
Thess events were recorded as part of the Open Publishing Fest, 2020 – a decentralized public event that brings together communities supporting open source software, open content, and open publishing models. For more visit: openpublishingfest.org
Book Dash was involved in three exciting events:
Book Dash and the power of open: We gather a couple of our incredible partners who re-use Book Dash books in all sorts of wonderful ways to tell us how the open license we use, powers their work too. Watch the recorded session here: youtu.be/XM5bptZVHbw
Productivity, Sprints and Remoteness: We reflect on our Virtual Book Dash with Book Sprints and learn from their experience with virtual, fast-paced book-making, too. If you're interested in the processes and tricks behind collaborative, book-making on a deadline, check out the session recording here: youtu.be/BfNbgG6FQBU
Book Dash: Origins and Evolution: the Book Dash founders speak about the origins and the evolution of the innovative Book Dash model for producing new, African storybooks in just twelve hours. Missed it? Watch the event: youtu.be/cEAB7M7YDvU
Every child should own a hundred books by the age of five, the research says so.
Giving children access to high-quality, relevant books is associated with positive behavioural, educational, and psychological outcomes.
But book-ownership among South African children is shockingly low – 58% of households don't own a single leisure book (SABDC, 2016) – and it has contributed to our literacy crisis as can be seen from the 2016 PIRLS results where 78% of the South African Grade 4 children could not read for meaning in any language (Howie, 2017). Illiteracy carries a huge cost to the economy (Gustafsson, 2010) and reputable, worldwide studies show that improving access to books for low-income children is a low-cost, high impact way of addressing the problem.

Conventional publishing models aren't designed to create affordable books for all. This is where Book Dash comes in: to close the book-ownership gap, we need to give away 600 million books with the help of many partner organisations.
Research about the effects of book ownership
What we do at Book Dash is big and bold, but it is also evidence-based. Research findings shape what we believe, what we do, and how we do it. Here is some of the key research that forms our backbone.
Children who have a book of their own are 15 times more likely to read above the level expected for their age, than those who don't own a book. (National Literacy trust, 2017)
Having books in the home gives children a measurable advantage at school, equal to 3.2 more years of schooling, even when controlled for other key factors such as income and parents' education. (Evans et al, 2010.)
Access to books impacts positively on the reading achievement of economically disadvantaged children. (Newman, S. et al., 2000)
A home library can promote reading and maths skills more than college alone can. (Sikora et al, 2019)
Plenty more research on why our children need more books, here.